There are so many different bikini bottoms styles available today from, Thong, Tanga, Brazilian cut, Moderate or full cut bikini bottoms. Which style do I prefer, which looks best on me, what am I comfortable with and willing to try?
It wasn't that many years ago when a Brazilian bikini, Thong, or skimpy cut bottom was only worn by only the most daring. But oh have times changed!  One of the more provocative styles which continues to gain popularity is the Brazilian cut bottom. Known for it's much less conservative coverage, the Brazilian Bikini bottom is typically a small triangle on the rear similar to the front.
Often made with excellent quality material, these bottoms do not sag and hold their shape very well. Girls of all ages who have ever tried, love these bottoms as they are often more flattering than moderate full coverage bottoms. Women who are concerned with the appearance of there backside often think that they will hide more with more coverage; When in fact, more coverage also adds to the visual perception of a larger bottom, the opposite result you were looking for.
We sell Brazilian cut swimwear all over the world in smalls, medium, to large. If you have never tried one, consider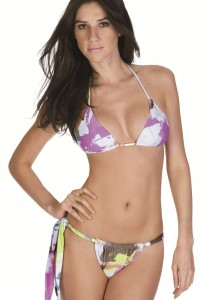 buying one for your next vacation and mix it in with your other suits and give it a try. There are many excellent brands to choose from and they all fit a little different.
Vitamin A  is an Iconic Brazilian Brand, that creates some of the most distinctive and trendsetting styles. Sexy, Feminine, perfect for
almost every figure type and fit. They have beautiful prints, sexy One-Piece Swimsuits, and minimal Brazilian Cut Bikini bottoms.
Vix Swimwear is one of the most famous Brazilian Brands, known throughout the world for their luxurious and beautiful fabrics, sexy, feminine designs, perfect for the beach, lounging at the pool or showing off at a fabulous resort. Brazilian Bikinis styles that make you feel confident, sexy, and fierce.
While Luli Fama manufactured in the US, produced in Colombia, and based in Miami, with their bold prints, skimpy cut bikini bottoms, exemplifies the Latin Miami vibe, with a style all their own. They offer an assortment of bottoms styles and are famous for their Ruched Scrunch Butt, bikini bottom as well as their very popular Thong Bikini that comes in a Thong One-Piece Swimsuit as well as a two-piece.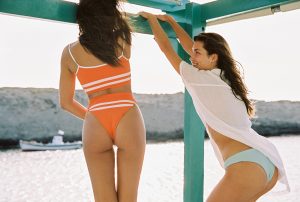 One of the most award-winning  Designers of our generation is Monica Wise of L*Space. L*Space Swimwear is a trend-setting leader, consistently designing the most relevant cuts, styles, and prints year after year.  They have a huge selection of Brazilian Swimwear in One-Piece and Two-Piece Swimsuits in every style from Low Rise, to High Waisted Bikinis, in solids and prints. 
Everyone knows of the Thong Bikini bottom, but another style that is growing in popularity is the Tanga bottom which is a modified version of the Thong.
Thong bikini bottoms are cut very low in the front and have only a thin strip of elastic material running between the cheeks in the rear. If you've ever heard of a floss bikini, that's a popular nickname for a thong.Tanga bikinis are very sexy modifications and are a little more conservative than a classic Thong. The front of the bottom piece is a small triangle attached to the back piece by strings or side ties or thin piece of Spandex. The back piece is a very small triangle that provides approximately 2-3 more inches of coverage than a Thong. ( Please see image above left and bottom right as examples) I think these bottoms are great sexy alternatives and can give the appearance of a shapelier bottom, which in most cases is an asset!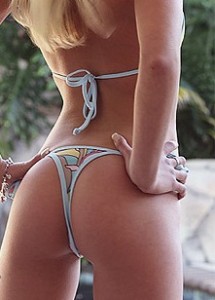 What is your favorite bottom style and why? If you have any tips, suggestions, or comments, we always appreciate hearing from you.
(Visited 16,854 times, 53 visits today)