I picked up this month's April issue of Glamour Magazine filled with wonderful articles and came across this feature of the 10 Biggest Swimsuit FAILS,  and wanted to share in a good laugh. I have to admit, I have done most of these myself.
1) DON'T do the walking-advertisement bikini thing.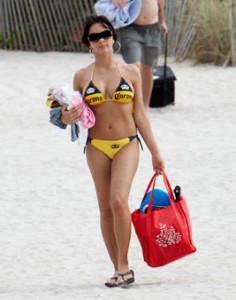 Not only does this lady look likes she's on the job for Corona, but she'll also inevitably be forced to defend herself against Jersey Shore look-alikes who might mistake her for their favorite beverage. MTV addicts, attempt this Swimsuit look at your own risk!
2) DON'T wear a swimsuit with a zillion and one strap.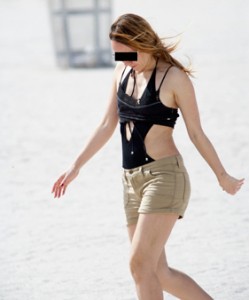 Sure, we've all been tempted by the sexy, strap-ilicious one-piece swimsuit, but be forewarned: A bathing suit like this one is going to leave you with a maze of trippy tan lines. Try matching those with your cutest summer dresses.
3) DON'T go for a Cover-up that doesn't, you know, cover you up.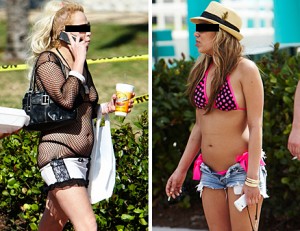 Less isn't always more. These two lovely ladies have proved that theory multiple times over. When thinking of what to wear over your swimsuit, keep in mind the dress code of the nearest restaurant—chances are, if you're spending a day in the sun, you'll get the munchies around high noon. (Hint: These two getups most definitely won't fit in with the universal "No Shirt No Shoes No Service" rule.)
I am sure at some point; we have all been guilty of at least one of these Don'ts. Take a look and see which one of these don'ts you're guilty of?
4) DON'T adjust your bathing suit in public (unless you can keep it on the DL).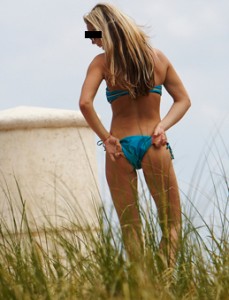 Straps get untied while tanning, String bikini bottoms are woefully underprepared for water sports, and the ocean is a nasty monster when it comes to keeping the girls in place—we get it. At the risk of sounding like your grandma (or some Emily Post lifeguard), might we suggest popping into the bathroom if you're having a serious swimsuit wardrobe malfunction—as X-rated contortions are rarely flattering.
Honestly, I am not so sure about this one. Sorry, but if I am coming out of the water and my Bandeau top is around my waist, I am going to do what I need to get it in place as fast as I can. The same goes with my bottom. The idea of strutting across the beach, walk into a bathroom then make an adjustment will most likely get me arrested for flashing or public nudity. Don't think so!
 5) DON'T wear a swimsuit that could double as lure-him-in lingerie.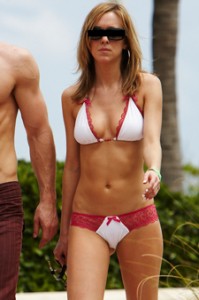 Some looks are best kept inside the bedroom. While your boyfriend might be appreciative, leave a little to the imagination by keeping the lingerie back at the hotel.
Vegas anyone? Hey, I'd wear one of these Lace Bikinis in a heartbeat sitting at the Bellagio pool. I think it depends on the location, situation, and mood I'm in, don't you?
6) DON'T forget the sunscreen. Really. It's not worth it.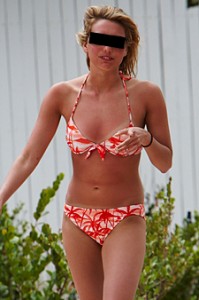 Ouch! Yes, we've all been burnt before, but if you want to keep your skin soft and supple—and wrinkle-free!—you must, must, must slather on the sunscreen. You don't want to risk melanoma—or having to uncomfortably shift in your seat 42 times during dinner later that evening. Read More http://www.glamour.com/fashion/2011/04/the-10-biggest-swimsuit-donts#ixzz1JLEXmvGu
7) DON'T bring your super-high dancing shoes to the beach.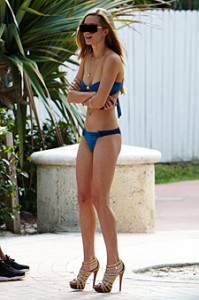 In a word: impractical. Music-video vixens make it look easy, but there's no way you can walk on the beach in those high heels. If it's glitz and glamour you crave, just bedazzle your flips-flops to keep things comfy, chic and sane.
Come on, ever been to South Beach? Platform High Heals is an accentual part of your Bikini wardrobe walking the Boardwalk. No, not my style and wonder whoever came up with it, why and what were they thinking but, South Beach wouldn't be the same without it! It's a girl opportunity to show it off like walking the Red Carpet. What else would you wear sandals or Flip Flops? 
8) DON'T do an itty-bitty bikini bottom on a public beach.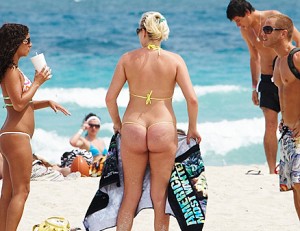 As a rule of thumb, the bottom of your bikini should be thicker than the straps holding it together up top. Regardless of your shape or size, an X-rated swimsuit like this is simply a no-no. (While we're at it, can we ban Speedos for men, too?)
I don't have a problem with young girls and women who are fit wearing one of these in public. Come on, if you got it, show it off, why go somewhere where no one's looking. I just don't want to see this!
9) DON'T dress up for Halloween, three months early.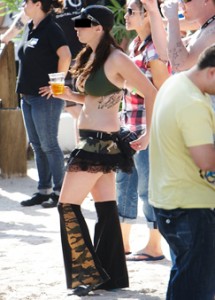 Tutu-accented skirts, Betty Boop-esque getups, and other costumes are best left in the closet until October rolls around. 'Nuff said.
10) DON'T buy a too-small swimsuit top.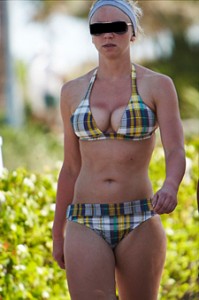 We know better than anyone how frustrating it is to find the perfect swimsuit (have you seen our swimsuit style stories?!), so trust us when we say a little extra time in the dressing room or cruising around online is totally worth it. Look for a mix 'n' match bikini where you can buy the top and bottom in different sizes—so you can get something that fits and flatters your cute figure to a T. (And if you're on the fence about a style, maybe even bounce up and down a bit to guarantee a flash-free fit, before you take your suit out for a spin.)
I agree with most of their points but there are a few that I am not so sure of. Let me know what you think and let me know your worst bikini moment?
Maybe your top decided to malfunction at the most inappropriate time or forget your sunscreen. Whatever it is, we want to hear about it, share it! ! Butterflies and Bikinis! 
(Visited 974 times, 4 visits today)