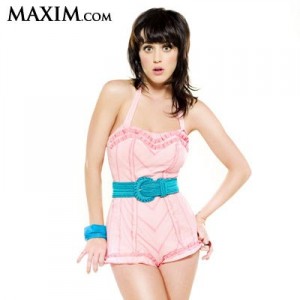 Maxim HOT 100, and Katy Perry tops the list as the HOTTEST WOMAN ALIVE! Yeah, even if you don't agree Katy definitely makes having curves cool which is OK with me.
She's cute, quirky, and has a style all her own. Photographed at each and every curve, she is the new POP Princes and tabloid Diva. I have to admit since Katy is a Santa Barbara Ca. local, as well as myself and our company Headquarters for Butterflies and Bikinis, I couldn't resist writing something.
Katy was born in Santa Barbara Ca. in 1984, as Katheryn Elizabeth Hudson. She was raised with conservative Christian beliefs, especially because her father was a Pastor, she grew up only listening to gospel music.
She had a love, drive, and passion for music and her career. Not to be constrained or boxed in, the ambitious Katy earned her GED during her freshman year of High School. As Katy Hudson, she released her first self titled gospel record in 2001. Later in 2004 she later recorded her second album with the production team, The Matrix but was not released. Then is 2007, Katy signed on with Capitol Records and at that time changed her name to Katy Perry, and released her first mainstream record. Her first song to hit the Charts was "Your So Gay" from her 2007 release with Capital, "One of the Boys".. Her breakthrough single,  I Kissed a Girl" was a huge success came in 2008.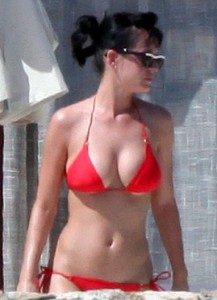 Since then, she has been an international terror and recently tamed and engaged to British comedian and actor, Russell Brand. To our right, recently photographed and showing off her sexy girlish figure in a Sizzling Red Hot   String Tie Bikini.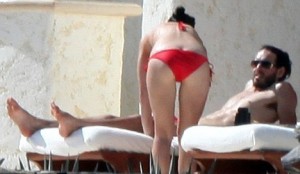 Attending to her Fiancé and showing off her suit, Katy looks relaxed and amazing next to Russell Brand.
Katy Perry is the Hottest Woman alive according to Maxim and Russell Brand, what do you think?
(Visited 269 times, 1 visits today)